The Wedding Business Sponsored by Panasonic
Tuesday, March 18, 2014 | 1:00 PM – 3:00 PM
Speakers: Kristen Jensen
Event Type: Photography
Location: B&H Event Space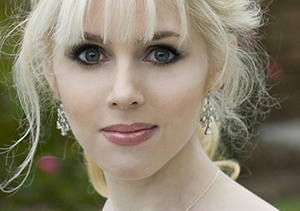 Kristen runs a very successful portrait and wedding studio and attributes most of her success to creating a consistent marketing plan, keeping in touch with clients, making her shoots fun and working with mirrorless cameras and natural light .Topics covered will be Creating Your Wedding Business, setting up a business name, creating a workflow to get and obtain clients and getting a data base that is chalked filled. Marketing Wedding Business with the perfect seamless branding that will trademark your style. Meeting Potential Brides and the art of closing a deal. Gearing Up and how to be your best on the wedding day with your client and what shots to take, discussion on what gear to shoot with and how. Kristen will also cover the Wedding Client Follow-Up and the ability to generate more clients from just one wedding.You will walk away from this class with the knowledge to create and successfully manage your own wedding photography business.

Kristen Jensen
Kristen Jensen of Kristen Jensen Productions is a lifestyle photographer/videographer and image strategist who brings an enlightened and gracious style to her advertising magazine, portrait and video assignments. "I'm in the business of making people feel and look their best", says Kristen. This unique perspective comes as a result of her years in front of the camera. As a former international fashion model with Ford Models, she made an easy transition to the other side of the lens. Kristen has a wealth of knowledge and experience plus an exceptional eye for those special details that trademark her style.
Born in Berlin, Germany, Kristen grew up in San Francisco where she began her modeling career at the age of 18 and worked with Ford Models in New York City for many years with great success. Among those for whom she has worked are: Bill Blass, Chanel, Yves Saint-Laurent, Ralph Lauren, Calvin Klein and Liz Clairborne.
She has graced the pages of international magazines, including Vogue, Harper's Bazaar, McCall's, Town & Country, Good Housekeeping, Vanity Fair and New Woman. She has also appeared in hundreds of catalogs around the world, including Victoria's Secret, Neiman Marcus, Macy's, Bloomingdales, Spiegel, Sears and Nordstrom. She is a member of Norwalk Chamber of Commerce as well as the Advertising Photographers of America (APA) and the Professional Photographers Association (PPA).
A sample of Kristen's portfolio, DVD slide shows, rate sheets and references are available upon request.
www.kristenjensen.com